About The Chalet
The Hidden Valley Chalet is maintained by the Ely Nordic Ski and Bike Club. In 2016 the chalet
underwent a major renovation which included a commercial kitchen, changing rooms, solar heat,
insulated windows and doors, upgraded lighting, new flooring, and wall coverings, and new tables and chairs. In 2020 a workout room equipped with ski ERGs and a waxing room was added. The chalet is available to club members via coded keyless entry. Most recently, a deck was added to the south exposure which provides additional meeting space and created a potential music stage. Our chalet is one of the finest venues on the Northeastern Minnesota ski circuit and a great place for special events year-round.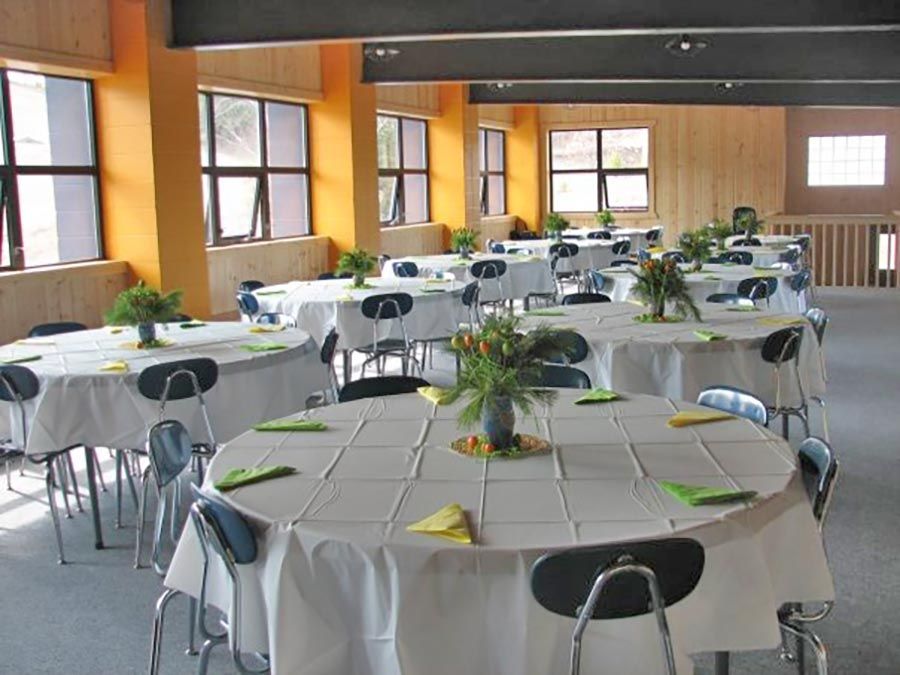 Chalet Rental Information
Day and Hourly Rates Available Rates are determined by the areas of the Chalet you would need available and whether you are a business, private individual, or nonprofit organization. The following areas of the Chalet are available for your gathering.
The Main floor 'Great Room'
The Concession/Catering Area
Chalet and Grounds
The Hidden Valley Chalet allows you to serve but not sell alcohol at your event. Restrooms are located on the lower level. A refundable damage deposit is required in advance with the rental fee. Alcohol at your Event requires a higher damage deposit.
Rental Manager: This email address is being protected from spambots. You need JavaScript enabled to view it.
Rental Includes
Ten 5 ft. round tables and 80 chairs
Two 10 ft. rectangular tables
Rental Rates
Daily Rental
Exclusive use of Chalet per DAY $150
Nonprofit per DAY $100
Hourly Rental
Exclusive use of Chalet per HOUR $25
Nonprofit per HOUR $20
Use of Concession/Catering Area is an additional $50.
Deposit
A refundable damage deposit is required in advance with the rental fee.
Without alcohol $100
With alcohol $500
Chalet Rental Rules
General Information

Maximum occupancy: Seating for 80

80 - chairs
2 - 8ft rectangular tables
10 - 5ft round tables

Hours available for rental: 8 am to 1 am
No animals allowed in Chalet
LIFT tables, don't drag on carpet
NO tacks or staples allowed. Use only blue painters 'quick release' tape for decorating.
After Event
Vacuum carpet, sweep floors
Shut and lock windows
Remove all garbage from the site
If using the concession area: leave it clean!
Comply with checklist by the exit
Reset thermostat to 50F
Lock the doors
Separate Rental Fee and Damage Deposit checks are due at the time of application. The damage deposit will be returned after inspection of premises following rental date.
Chalet Rental Calendar
The calendar below shows events already scheduled at the Chalet. Please contact This email address is being protected from spambots. You need JavaScript enabled to view it. to schedule an event. Members are always welcome to use the lower level of the chalet with their access code. Keep in mind that the main level may be reserved, so please respect users of that space.